How to Tune the Harp
To tune the Llanera Harp, we must use a musical instrument tuner and the harp tuning key.
Keep in mind that in most tuners, the name of the musical notes is expressed in the Anglo-Saxon nomenclature. As follows:
For the following study piece, we are going to tune the harp in the D major scale:
                                                         D – E – F# – G – A – B – C# – D
The Symbol # "Sharp", in music refers to that note must be increased by half a tone. In the case of the musical scale, it is used to create the structure corresponding to the key of D major.
Steps to tune the harp

1) Turn on the tuner by pressing the ON bottom
2) Locate string No. 15 (D) from the first string of the harp
3)  With one finger, play the No. 15 string and watch the tuner. The tuner will display the name of the note and tuning behavior
if the indicator of the tuner is to the left, this means that the string must be tightened more to reach its exact tuning. To do this, use the harp tuning key by placing it on the certain pin and turn the key clockwise.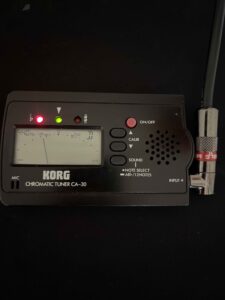 If the tuner indicator is located in the middle and the green light illuminates, this means that the string is in tune.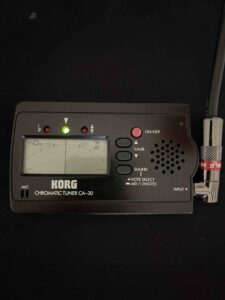 if the indicator is towards the right side, this means that the string must have less tension to reach the exact tuning. For this, we again use the tuning key and turn the key counterclockwise.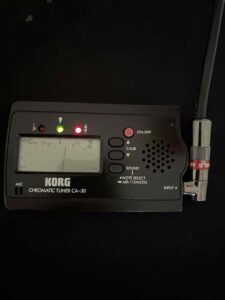 4) Repeat the process with string 14 (E) until you reach string 8 (D). Remember that the note of string 13 is sharp (F#). for this you must increase the tension of the string until you reach F#. The same will happen with string 9 (C#) The D note on string 8 should sound higher than string 15 (D)
5) Repeat the process again, now from string 7 (E) to string 1 (D)
6) After tuning the first 15 strings of the harp, we will tune string 16 (C#). Repeat the process downwards until you reach rope 32 (A)
Reference Video: