Colombian harpist, composer and entrepreneur Nicolás Castañeda Lozano represents a new wave of Latin American musicians who have masterfully balanced and blended innovation and tradition. His promising career has been notable for seeking more possibilities both to play the Colombian harp and to develop a new identity and contemporary sounds through his experience as a composer.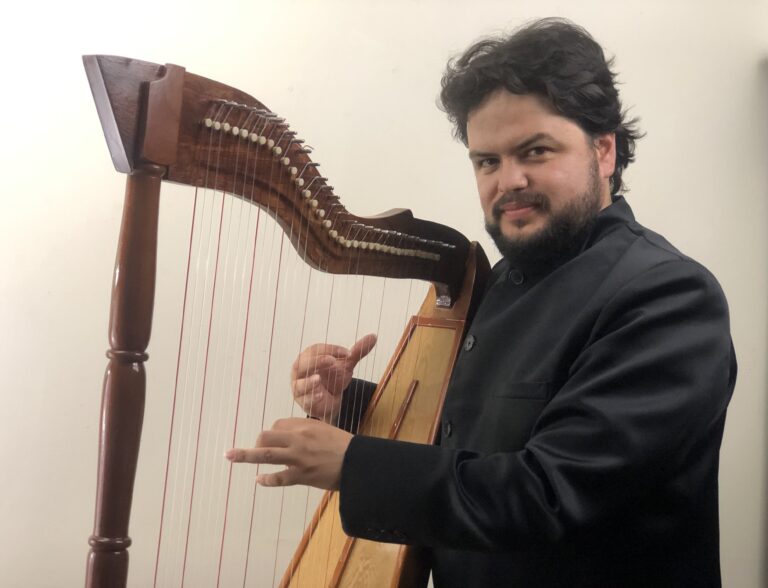 Born in Bogotá, Colombia in 1989, Castañeda began his career playing Colombian percussion instruments, clarinet and llanera harp; playing the folk music of his country. From the first years of his performance, Castañeda obtained awards in his native land for his outstanding performance in national and international competitions such as the Joropo International Tournament and the Young Interpreters series of the Bank of the Republic of Colombia. In 2013, Castañeda obtained a scholarship to study at Berklee College of Music in Boston Massachusetts, United States of America. During his musical studies at the university, Castañeda participated in different events representing the university, and mixed his musical language with different world music. In 2015, Castañeda was recognized by the BMI Foundation for his academic and artistic excellence in the jazz and music production department at Berklee College of Music. Finally, in 2016, he obtained his award-winning academic degree in music with a specialization in jazz composition; being the first Colombian harpist of folkloric tradition graduated from one of the world-renowned universities.
Currently, Castañeda is developing different musical productions both as a solo harpist and as an ensemble leader through his forthcoming second album. In addition, Castañeda is also creating different academic publications as a composer, which are focused on the development of traditional Colombian music; starting as a fundamental axis the writing and musical notation of the different traditional instruments and their application in the instrumental performance, through musical compositions and educational books in different formats, both traditional and other music.